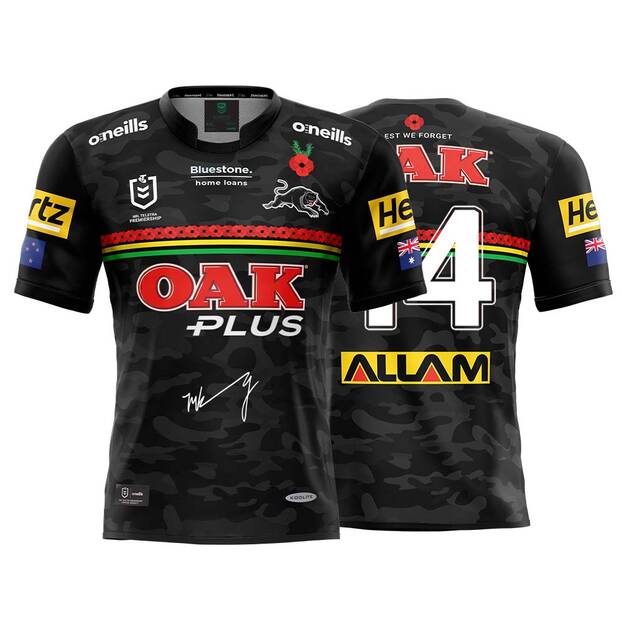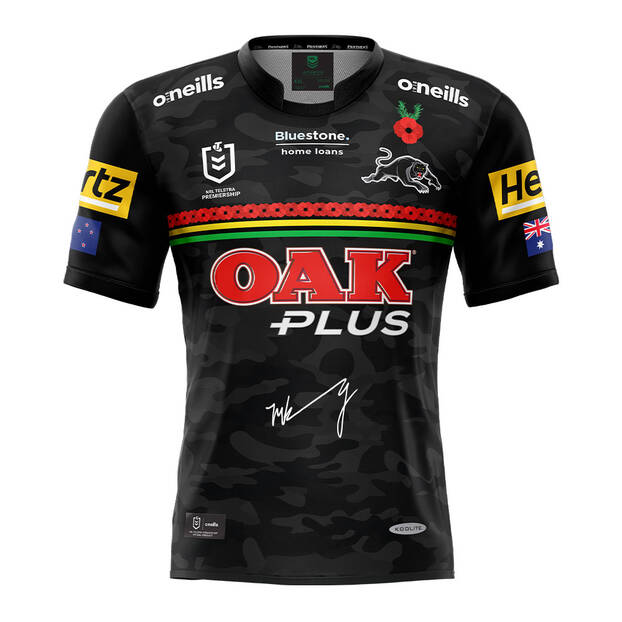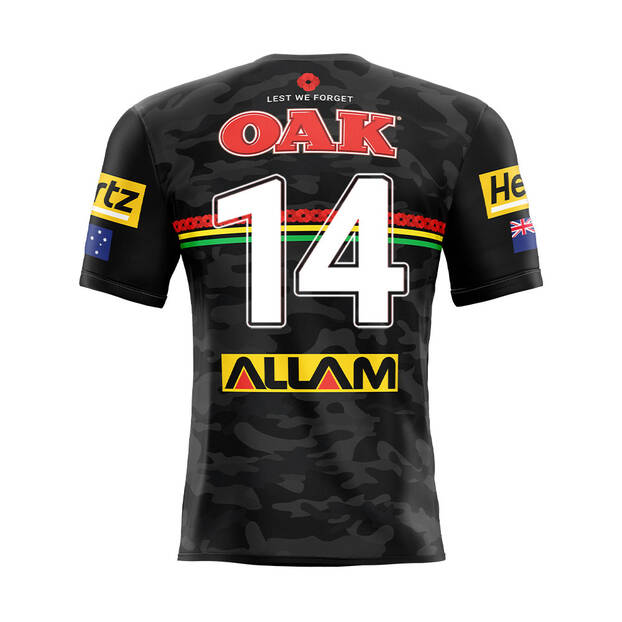 SKU: 22 ANZ KEN14
14. Mitch Kenny player-issued ANZAC Jersey
Auction End: 27 April 2022 13:05 (AEST)
To see how Panther Shop auctions work use this link.
Own a piece of Panthers history with Mitch Kenny's signed player-issued jersey, from the team's round 7 clash against Canberra Raiders on Sunday 24 April at BlueBet Stadium.
The jersey will be individually signed by the player named in the corresponding number.
Proceeds from the auction will be donated to the Men of League Foundation.
The jersey is accompanied by a signed Certificate of Authenticity.
The commemorative jersey is one of the club's primary initiatives for ANZAC Round - when the game pays tribute to those who have put themselves in harm's way to protect our way of life.
JERSEY FEATURES:
Australian and New Zealand flags on the left and right sleeve respectively
Strip of red poppies across the chest
Traditional poppy and sprig of rosemary above the Panthers club logo
Camouflage print
The back of the jersey is emblazoned with the eternal phrase - LEST WE FORGET
Please note physical product may appear slightly different in appearance from artist impression.
Please login to bid.
If you do not have an account register here.
Bid History
| | | |
| --- | --- | --- |
| Date/Time | Amount | Bidder Name/User |
| 27 April 2022 13:03 | $960.00 | Rowen Hastings |
| 27 April 2022 13:03 | $950.00 | Brent |
| 27 April 2022 13:02 | $910.00 | Rowen Hastings |
| 27 April 2022 13:02 | $900.00 | Brent |
| 27 April 2022 12:45 | $815.00 | Rowen Hastings |
| 27 April 2022 12:45 | $805.00 | AB |
| 27 April 2022 12:45 | $795.00 | Rowen Hastings |
| 27 April 2022 12:45 | $785.00 | AB |
| 27 April 2022 12:34 | $775.00 | Rowen Hastings |
| 27 April 2022 12:34 | $765.00 | AB |
| 27 April 2022 12:34 | $755.00 | Rowen Hastings |
| 27 April 2022 12:34 | $745.00 | AB |
| 27 April 2022 12:34 | $735.00 | Rowen Hastings |
| 27 April 2022 12:34 | $725.00 | AB |
| 22 April 2022 20:34 | $715.00 | Rowen Hastings |
| 22 April 2022 20:34 | $705.00 | Matt |
| 22 April 2022 20:34 | $695.00 | Rowen Hastings |
| 22 April 2022 20:34 | $685.00 | Matt |
| 22 April 2022 20:34 | $675.00 | Rowen Hastings |
| 22 April 2022 20:34 | $665.00 | Matt |
| 22 April 2022 20:34 | $655.00 | Rowen Hastings |
| 22 April 2022 20:34 | $645.00 | Matt |
| 21 April 2022 20:28 | $635.00 | Rowen Hastings |
| 21 April 2022 20:21 | $520.00 | Matt |
| 21 April 2022 20:08 | $510.00 | AB |
| 21 April 2022 20:08 | $500.00 | Scotty |
| 21 April 2022 20:08 | $500.00 | AB |
| 21 April 2022 20:08 | $490.00 | Scotty |
| 21 April 2022 20:08 | $480.00 | AB |
| 21 April 2022 20:08 | $470.00 | Scotty |
| 21 April 2022 20:08 | $460.00 | AB |
| 21 April 2022 20:07 | $450.00 | Scotty |
| 21 April 2022 20:07 | $440.00 | AB |
| 21 April 2022 20:05 | $430.00 | Scotty |
| 21 April 2022 20:05 | $420.00 | DJ |
| 21 April 2022 19:27 | $410.00 | Scotty |
| 21 April 2022 19:27 | $400.00 | Dtoll289 |
| 21 April 2022 19:10 | $350.00 | Scotty |
| 21 April 2022 19:10 | $340.00 | Dtoll289 |
| 21 April 2022 19:10 | $330.00 | Scotty |
| 21 April 2022 19:10 | $320.00 | Dtoll289 |
| 21 April 2022 19:10 | $310.00 | Scotty |
| 21 April 2022 19:10 | $300.00 | Dtoll289 |
| 21 April 2022 18:56 | $270.00 | Scotty |
| 21 April 2022 18:16 | $260.00 | Dtoll289 |
| 21 April 2022 18:16 | $250.00 | JO |
| 21 April 2022 18:16 | $250.00 | Dtoll289 |
| 21 April 2022 18:16 | $240.00 | JO |
| 21 April 2022 18:16 | $230.00 | Dtoll289 |
| 21 April 2022 14:59 | $220.00 | JO |
| 21 April 2022 14:59 | $210.00 | PF |
| 21 April 2022 14:59 | $200.00 | JO |
| 21 April 2022 14:59 | $190.00 | PF |
| 21 April 2022 14:58 | $180.00 | JO |
| 21 April 2022 14:58 | $170.00 | PF |
| 21 April 2022 14:44 | $160.00 | JO |
| 21 April 2022 13:54 | $150.00 | 1997Bubba22 |