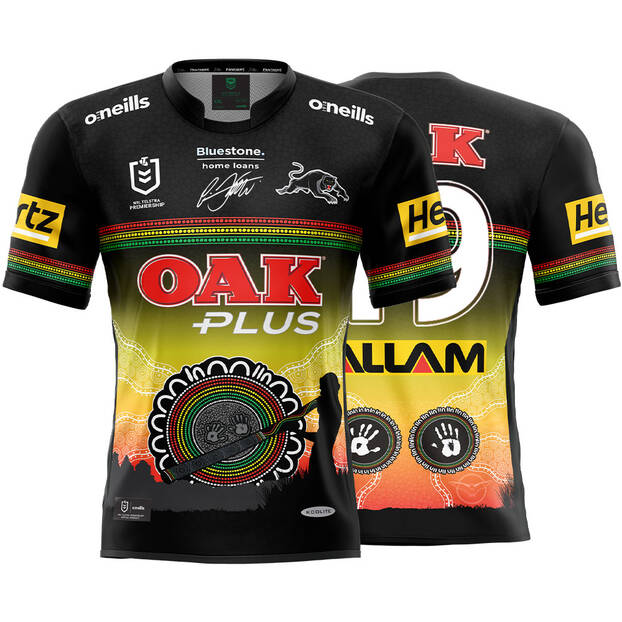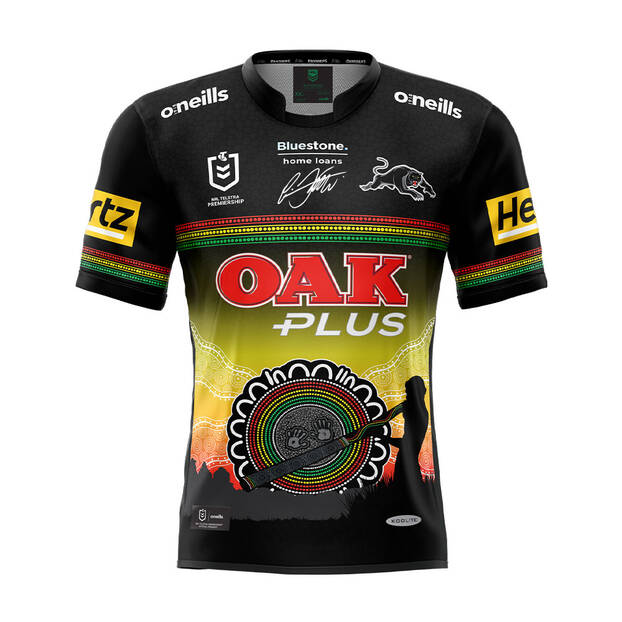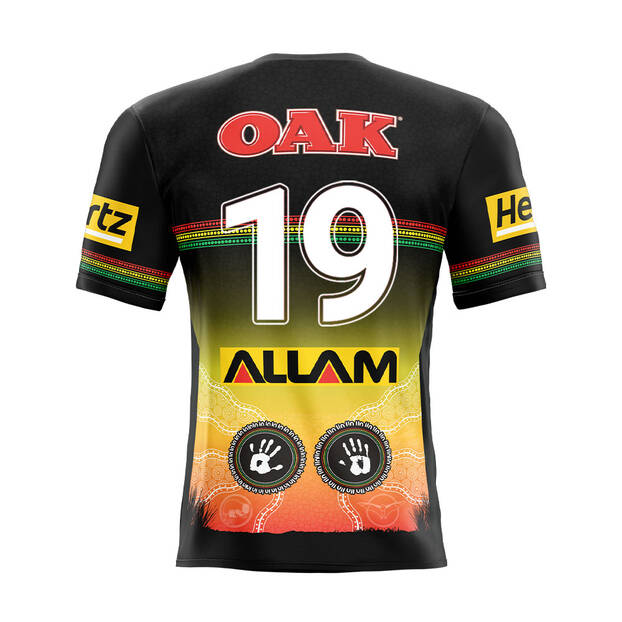 SKU: 22-IND-SMI
19. Chris Smith Signed, Match-Issued Indigenous Jersey
Auction End: 1 June 2022 13:30 (AEST)
To see how Panther Shop auctions work use this link.
Own a piece of Panthers history with Chris Smith's signed match-issued jersey, from the team's Round 12 clash against North Queensland Cowboys.
Proceeds from the auction will be divided between Panthers Indigenous program 'Sticks to Stadium' and other community initiatives run by the club.
The jerseys are accompanied by a signed Certificate of Authenticity.
The 2022 Panthers Indigenous Jersey recognises the many roles played by both men and women in Rugby League within the Darug Nation.
The front of the jersey features the meeting place of BlueBet Stadium on Darug land and the iconic Three Sisters in the Blue Mountains.
The jersey comprises of both male and female handprints, representing both genders as equals. The handprint of J'maine Hopgood (Gurang Gurang) and Chris Smith (Arrernte) is featured on the front and back of the jersey respectively. Accompanying them is the handprints of Taylah Murray (Darkinjung), an important and highly respected member of the Panthers commercial team.
Situated under the handprints, encircled by the symbol for men and women are the Darug Totems, a fruit bat for men and a ringtail possum for women.
The Indigenous designs are accompanied by symbols and patterns painted by Glen Liddiard which demonstrate unity, connection and a common meeting place being BlueBet Stadium, where both men and women unite over their passion and pride for their team.
Please login to bid.
If you do not have an account register here.
Bid History
| | | |
| --- | --- | --- |
| Date/Time | Amount | Bidder Name/User |
| 30 May 2022 21:18 | $290.00 | NW |
| 30 May 2022 21:18 | $290.00 | DS |
| 28 May 2022 13:02 | $280.00 | NW |
| 28 May 2022 13:02 | $280.00 | MH |
| 28 May 2022 13:02 | $270.00 | NW |
| 28 May 2022 13:02 | $260.00 | MH |
| 28 May 2022 00:38 | $250.00 | NW |
| 27 May 2022 06:57 | $200.00 | Zac pilcher |
| 27 May 2022 06:02 | $190.00 | Braddodd |
| 27 May 2022 06:02 | $180.00 | Zac pilcher |
| 27 May 2022 06:02 | $180.00 | Braddodd |
| 26 May 2022 20:57 | $170.00 | Zac pilcher |
| 26 May 2022 20:57 | $170.00 | 1997Bubba22 |
| 26 May 2022 19:40 | $160.00 | Zac pilcher |
| 26 May 2022 15:11 | $150.00 | NW |