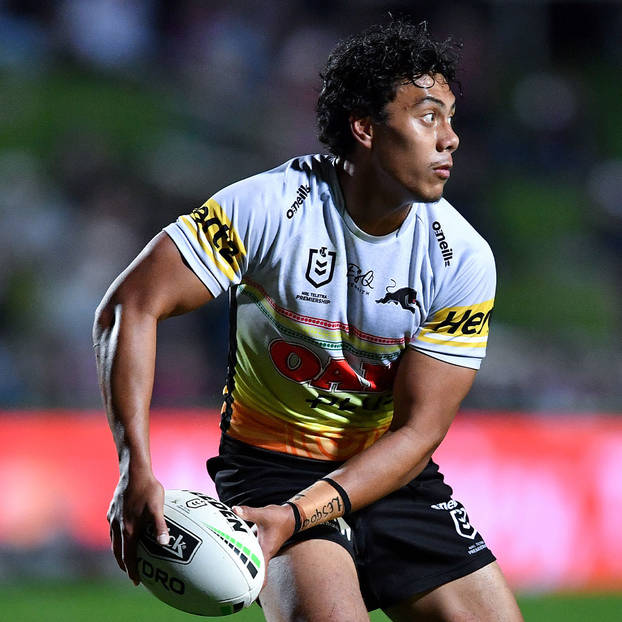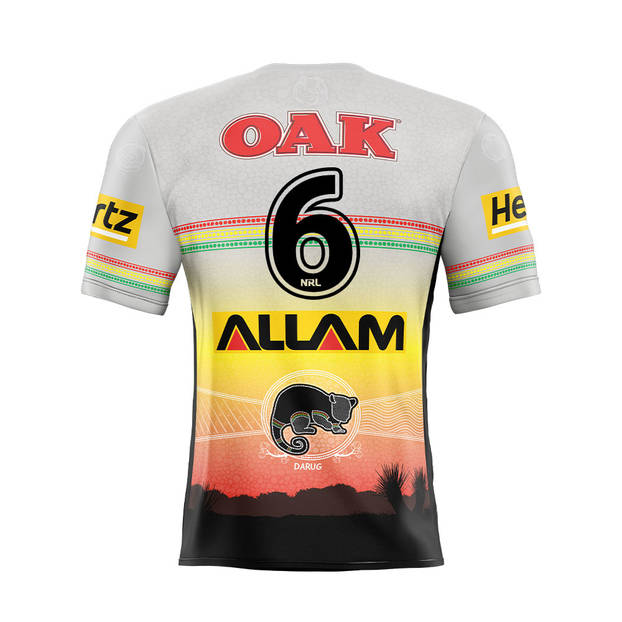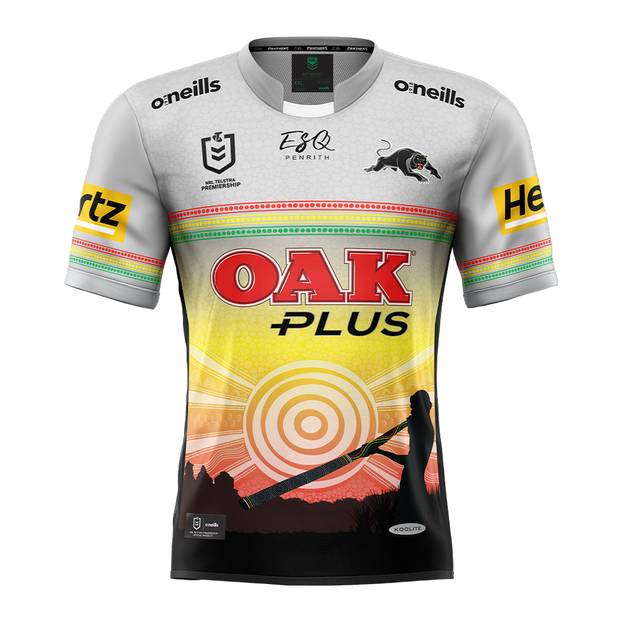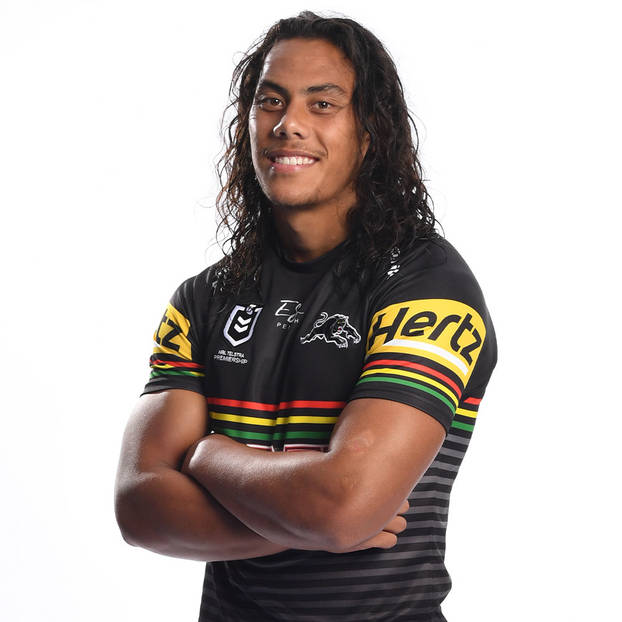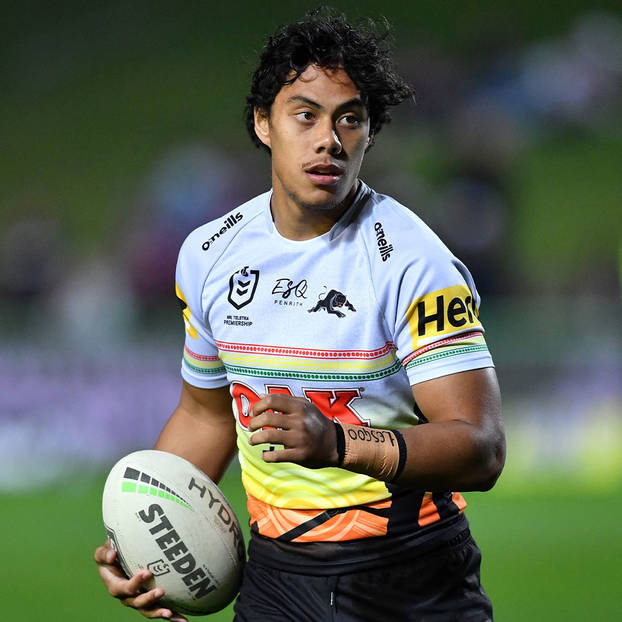 SKU: 2020-PEN-PAN-INDIG-JERS-#6
6. Jarome Luai Signed, Match-Worn Indigenous Jersey
Auction End: 5 August 2020 20:30 (AEDT)
To see how Panther Shop auctions work use this link.
6. JAROME LUAI SIGNED, MATCH-WORN INDIGENOUS JERSEY
Own a piece of Panthers history with Jarome's signed match-worn jersey, from the team's Round 12 clash against Manly Warringah Sea Eagles.
A portion of all proceeds will support the Panthers on the Prowl community programs.
Panthers is proud to unveil the 2020 Indigenous Jersey - an artistic tribute to the people, geography, flora and fauna of the Darug Nation.
The jersey will come with a signed certificate of authenticity.
The front of the jersey features the meeting place of Panthers Stadium on Darug land, flanked by the Nepean River, local wildlife and the Blue Mountains.
The setting sun creates an eye-catching silhouette to acknowledge the traditional owners of the land the Panthers community calls home today.
The lower back of the jersey features the Darug possum totem, with fire on one side and flood on the other, representing the natural forces that impact the landscape and community.
If shipping is required, the cost of shipping will be at the expense of the winning bidder.
Please login to bid.
If you do not have an account register here.
Bid History
| | | |
| --- | --- | --- |
| Date/Time | Amount | Bidder Name/User |
| 5 August 2020 20:29 | $1,145.00 | MI |
| 5 August 2020 20:26 | $1,135.00 | Indigenous jersey |
| 5 August 2020 20:19 | $1,125.00 | BB |
| 5 August 2020 20:11 | $1,115.00 | Indigenous jersey |
| 5 August 2020 20:01 | $1,105.00 | MI |
| 5 August 2020 20:01 | $1,070.00 | Indigenous jersey |
| 5 August 2020 20:01 | $1,060.00 | MI |
| 5 August 2020 20:01 | $1,050.00 | Indigenous jersey |
| 5 August 2020 20:01 | $1,040.00 | MI |
| 3 August 2020 21:41 | $1,030.00 | Indigenous jersey |
| 3 August 2020 06:53 | $1,020.00 | SD |
| 3 August 2020 06:33 | $1,010.00 | Ramps111 |
| 3 August 2020 06:33 | $1,000.00 | Rossco |
| 3 August 2020 06:33 | $1,000.00 | Ramps111 |
| 3 August 2020 06:33 | $990.00 | Rossco |
| 3 August 2020 06:33 | $980.00 | Ramps111 |
| 3 August 2020 06:33 | $970.00 | Rossco |
| 3 August 2020 06:33 | $960.00 | Ramps111 |
| 3 August 2020 06:32 | $950.00 | Rossco |
| 3 August 2020 06:32 | $940.00 | Ramps111 |
| 2 August 2020 20:23 | $930.00 | Rossco |
| 2 August 2020 20:23 | $920.00 | Ramps111 |
| 2 August 2020 19:45 | $910.00 | Rossco |
| 2 August 2020 18:53 | $900.00 | Teach |
| 2 August 2020 15:05 | $890.00 | AP |
| 2 August 2020 10:44 | $880.00 | SD |
| 2 August 2020 06:37 | $870.00 | Ramps111 |
| 1 August 2020 16:06 | $860.00 | JO'Neill |
| 1 August 2020 16:06 | $850.00 | TH |
| 1 August 2020 16:06 | $840.00 | JO'Neill |
| 1 August 2020 16:06 | $830.00 | TH |
| 1 August 2020 16:06 | $820.00 | JO'Neill |
| 1 August 2020 16:05 | $810.00 | TH |
| 1 August 2020 16:05 | $800.00 | JO'Neill |
| 1 August 2020 16:05 | $790.00 | TH |
| 1 August 2020 16:05 | $780.00 | JO'Neill |
| 1 August 2020 16:05 | $770.00 | TH |
| 1 August 2020 16:05 | $760.00 | JO'Neill |
| 1 August 2020 16:05 | $750.00 | TH |
| 1 August 2020 16:05 | $740.00 | JO'Neill |
| 1 August 2020 16:05 | $730.00 | TH |
| 1 August 2020 16:05 | $720.00 | JO'Neill |
| 1 August 2020 16:05 | $710.00 | TH |
| 1 August 2020 16:05 | $700.00 | JO'Neill |
| 1 August 2020 16:05 | $690.00 | TH |
| 1 August 2020 16:05 | $680.00 | JO'Neill |
| 1 August 2020 01:15 | $670.00 | TH |
| 31 July 2020 19:40 | $660.00 | Pantherchick11 |
| 31 July 2020 19:40 | $650.00 | Teach |
| 31 July 2020 19:40 | $640.00 | Pantherchick11 |
| 31 July 2020 19:40 | $630.00 | Teach |
| 31 July 2020 19:40 | $620.00 | Pantherchick11 |
| 31 July 2020 18:04 | $610.00 | Teach |
| 31 July 2020 17:18 | $580.00 | Stylus Blinds |
| 31 July 2020 17:18 | $570.00 | CM |
| 31 July 2020 06:17 | $560.00 | Stylus Blinds |
| 31 July 2020 06:17 | $550.00 | Zingerbox |
| 31 July 2020 06:17 | $540.00 | Stylus Blinds |
| 31 July 2020 06:17 | $530.00 | Zingerbox |
| 30 July 2020 23:04 | $520.00 | Stylus Blinds |
| 30 July 2020 22:34 | $510.00 | Blake |
| 30 July 2020 22:34 | $500.00 | Stylus Blinds |
| 30 July 2020 22:34 | $495.00 | Blake |
| 30 July 2020 22:34 | $485.00 | Stylus Blinds |
| 30 July 2020 22:34 | $475.00 | Blake |
| 30 July 2020 21:44 | $465.00 | Stylus Blinds |
| 30 July 2020 18:44 | $410.00 | DS |
| 30 July 2020 18:44 | $385.00 | AJ |
| 30 July 2020 18:44 | $375.00 | DS |
| 30 July 2020 18:31 | $270.00 | AJ |
| 30 July 2020 18:16 | $260.00 | AB |
| 30 July 2020 18:16 | $250.00 | rob64 |
| 30 July 2020 18:16 | $240.00 | AB |
| 30 July 2020 18:16 | $230.00 | rob64 |
| 30 July 2020 18:16 | $220.00 | AB |
| 30 July 2020 18:00 | $210.00 | rob64 |
| 30 July 2020 18:00 | $200.00 | Villiame Kikau |
| 30 July 2020 18:00 | $190.00 | rob64 |
| 30 July 2020 18:00 | $180.00 | Villiame Kikau |
| 30 July 2020 18:00 | $170.00 | rob64 |
| 30 July 2020 18:00 | $160.00 | Villiame Kikau |
| 30 July 2020 17:37 | $150.00 | rob64 |