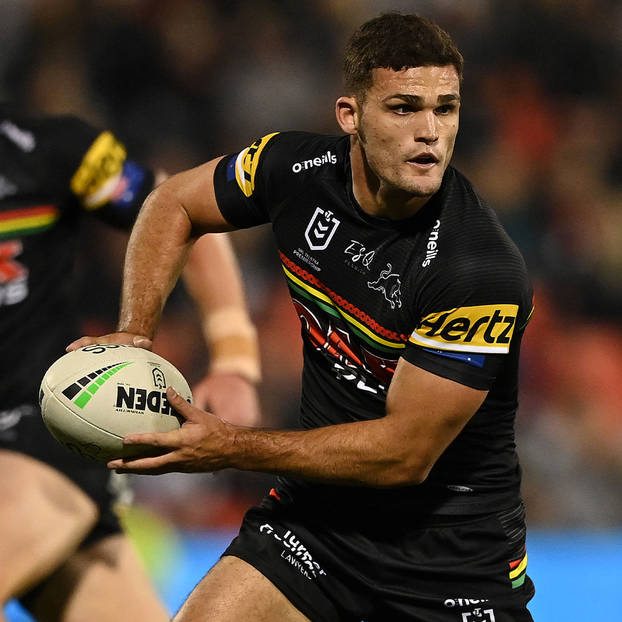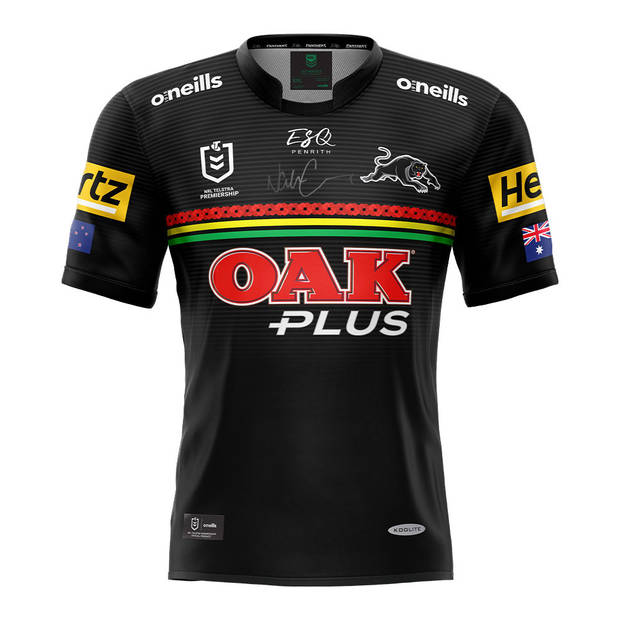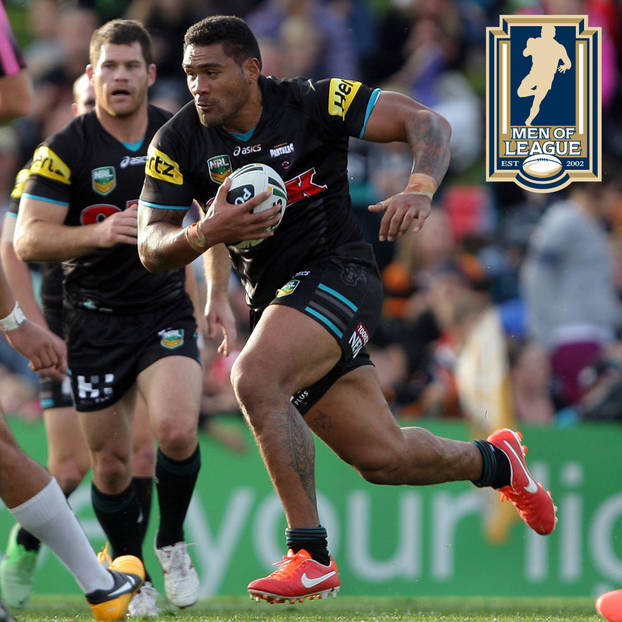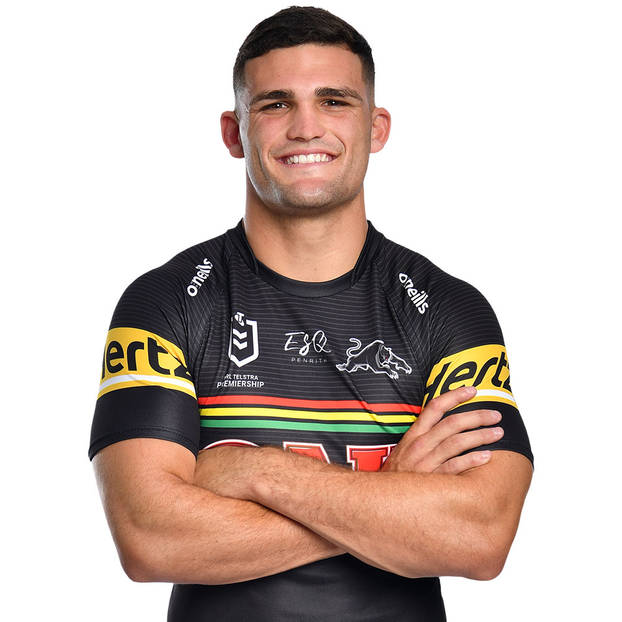 SKU: ANZAC MW 7 CLE
7. Nathan Cleary, Match-Worn ANZAC Jersey
Auction End: 28 April 2021 12:30 (AEST)
To see how Panther Shop auctions work use this link.
Own a piece of Panthers history with Nathan Cleary's signed match-worn jersey, from the team's Round 7 clash against Newcastle Knights.
All proceeds from the auction will be donated to the 'Stand with Mose' fundraiser, in support of former Panther Mose Masoe, and the Men of League Foundation.
The jersey is accompanied by a signed Certificate of Authenticity.
Panthers is proud to have the honour of kicking off the 2021 NRL ANZAC Round with a clash against Newcastle Knights at Panthers Stadium.
To mark the special occasion, the Panthers NRL side will don the club's first ANZAC Jersey in six years.
Features:
Australian and New Zealand flags on the left and right sleeve respectively
Strip of red poppies across the chest
The back of the jersey is emblazoned with the eternal phrase - LEST WE FORGET
Please login to bid.
If you do not have an account register here.
Bid History
| | | |
| --- | --- | --- |
| Date/Time | Amount | Bidder Name/User |
| 28 April 2021 12:29 | $3,160.00 | rafaero |
| 28 April 2021 12:29 | $3,150.00 | Jayden |
| 28 April 2021 12:29 | $3,150.00 | M26 |
| 28 April 2021 12:26 | $3,000.00 | Jayden |
| 28 April 2021 12:26 | $2,990.00 | cje1983 |
| 28 April 2021 12:26 | $2,910.00 | Jayden |
| 28 April 2021 12:26 | $2,900.00 | cje1983 |
| 28 April 2021 12:25 | $2,810.00 | Jayden |
| 28 April 2021 12:25 | $2,800.00 | cje1983 |
| 24 April 2021 14:49 | $2,710.00 | Jayden |
| 24 April 2021 14:49 | $2,700.00 | Owen |
| 24 April 2021 14:48 | $2,690.00 | Jayden |
| 24 April 2021 14:48 | $2,680.00 | Owen |
| 24 April 2021 13:47 | $2,670.00 | Jayden |
| 24 April 2021 13:47 | $2,660.00 | Owen |
| 24 April 2021 13:47 | $2,650.00 | Jayden |
| 24 April 2021 13:47 | $2,640.00 | Owen |
| 24 April 2021 13:47 | $2,630.00 | Jayden |
| 24 April 2021 13:47 | $2,620.00 | Owen |
| 24 April 2021 13:46 | $2,610.00 | Jayden |
| 24 April 2021 13:46 | $2,600.00 | Owen |
| 23 April 2021 13:57 | $2,590.00 | Jayden |
| 23 April 2021 13:57 | $2,580.00 | Danny |
| 23 April 2021 13:56 | $2,570.00 | Jayden |
| 23 April 2021 13:56 | $2,560.00 | Danny |
| 23 April 2021 13:51 | $2,550.00 | Jayden |
| 23 April 2021 13:51 | $2,540.00 | Danny |
| 23 April 2021 13:51 | $2,530.00 | Jayden |
| 23 April 2021 13:51 | $2,520.00 | Danny |
| 22 April 2021 22:24 | $2,510.00 | Jayden |
| 22 April 2021 22:24 | $2,500.00 | Kegsie |
| 22 April 2021 22:23 | $2,210.00 | Jayden |
| 22 April 2021 22:23 | $2,200.00 | Kegsie |
| 22 April 2021 22:21 | $2,010.00 | Jayden |
| 22 April 2021 22:21 | $2,000.00 | Kegsie |
| 22 April 2021 22:20 | $1,970.00 | Jayden |
| 22 April 2021 22:20 | $1,960.00 | Kegsie |
| 22 April 2021 18:45 | $1,950.00 | Jayden |
| 22 April 2021 18:45 | $1,940.00 | Danny |
| 22 April 2021 18:43 | $1,930.00 | Jayden |
| 22 April 2021 18:43 | $1,920.00 | Danny |
| 21 April 2021 22:57 | $1,910.00 | Jayden |
| 21 April 2021 22:57 | $1,900.00 | DE |
| 21 April 2021 22:52 | $1,860.00 | Jayden |
| 21 April 2021 22:52 | $1,850.00 | DE |
| 21 April 2021 22:52 | $1,840.00 | Jayden |
| 21 April 2021 22:52 | $1,830.00 | DE |
| 21 April 2021 21:01 | $1,820.00 | Jayden |
| 21 April 2021 21:00 | $1,810.00 | RR |
| 21 April 2021 20:58 | $1,800.00 | Jayden |
| 21 April 2021 20:58 | $1,800.00 | Pav |
| 21 April 2021 20:57 | $1,510.00 | Jayden |
| 21 April 2021 20:57 | $1,500.00 | Pav |
| 21 April 2021 20:57 | $1,080.00 | Jayden |
| 21 April 2021 20:57 | $1,070.00 | Pav |
| 21 April 2021 20:54 | $1,060.00 | Jayden |
| 21 April 2021 20:54 | $1,050.00 | TassiePanther |
| 21 April 2021 20:31 | $1,020.00 | Jayden |
| 21 April 2021 20:27 | $1,010.00 | RR |
| 21 April 2021 20:22 | $1,000.00 | M26 |
| 21 April 2021 20:22 | $999.00 | TassiePanther |
| 21 April 2021 20:22 | $960.00 | M26 |
| 21 April 2021 20:22 | $950.00 | TassiePanther |
| 21 April 2021 20:22 | $880.00 | M26 |
| 21 April 2021 20:22 | $870.00 | TassiePanther |
| 21 April 2021 20:11 | $860.00 | M26 |
| 21 April 2021 20:11 | $850.00 | SG |
| 21 April 2021 20:10 | $760.00 | M26 |
| 21 April 2021 20:10 | $750.00 | SG |
| 21 April 2021 19:53 | $740.00 | M26 |
| 21 April 2021 19:53 | $730.00 | Panthers2021 |
| 21 April 2021 19:02 | $720.00 | M26 |
| 21 April 2021 19:02 | $710.00 | DF |
| 21 April 2021 17:53 | $700.00 | M26 |
| 21 April 2021 17:53 | $690.00 | Owen |
| 21 April 2021 17:52 | $680.00 | M26 |
| 21 April 2021 17:52 | $670.00 | Owen |
| 21 April 2021 17:52 | $660.00 | M26 |
| 21 April 2021 17:52 | $650.00 | Owen |
| 21 April 2021 17:52 | $640.00 | M26 |
| 21 April 2021 17:52 | $630.00 | Owen |
| 21 April 2021 17:52 | $620.00 | M26 |
| 21 April 2021 17:52 | $610.00 | Owen |
| 21 April 2021 17:52 | $600.00 | M26 |
| 21 April 2021 17:52 | $590.00 | Owen |
| 21 April 2021 17:52 | $580.00 | M26 |
| 21 April 2021 17:52 | $570.00 | Owen |
| 21 April 2021 17:52 | $560.00 | M26 |
| 21 April 2021 17:52 | $550.00 | Owen |
| 21 April 2021 17:52 | $540.00 | M26 |
| 21 April 2021 17:52 | $530.00 | Owen |
| 21 April 2021 17:01 | $520.00 | M26 |
| 21 April 2021 17:00 | $510.00 | SD |
| 21 April 2021 16:51 | $500.00 | M26 |
| 21 April 2021 16:51 | $500.00 | PommyPanther |
| 21 April 2021 16:51 | $160.00 | M26 |
| 21 April 2021 16:48 | $150.00 | Brad.10 |