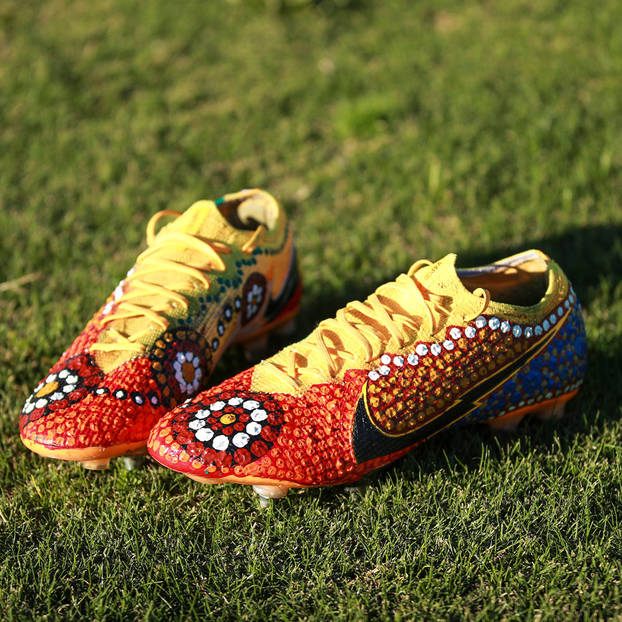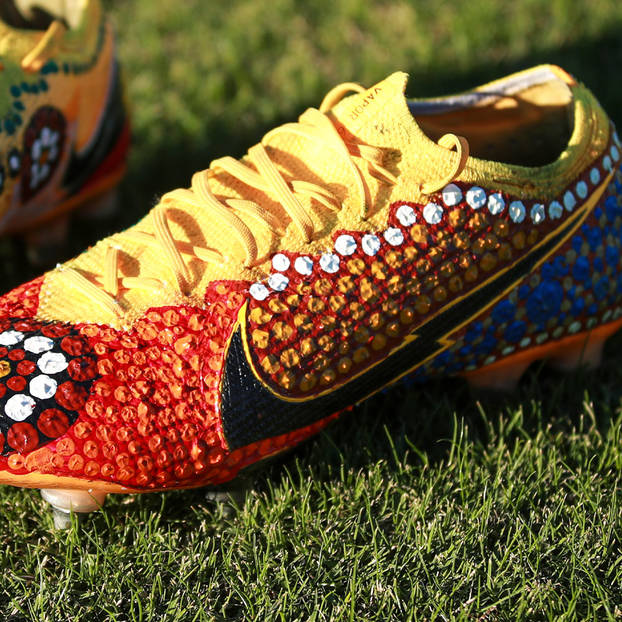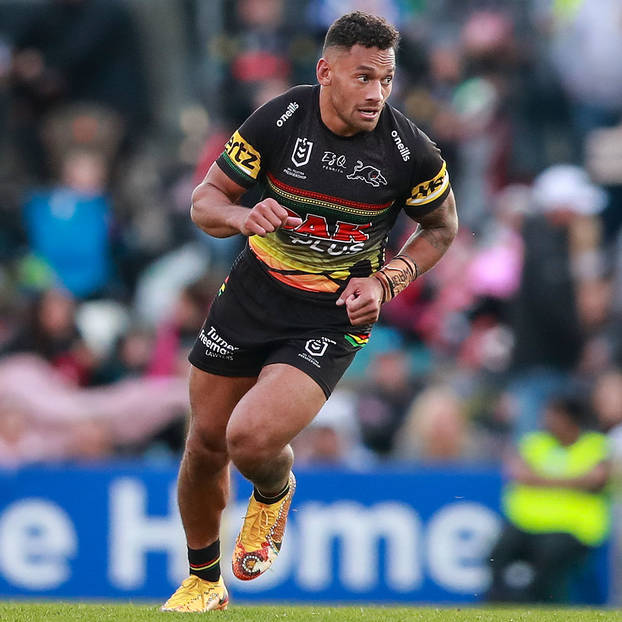 SKU: 21 INDIG BOOT API
Api Koroisau's Signed Match Boots
Auction End: 2 June 2021 14:10 (AEDT)
To see how Panther Shop auctions work use this link.
Own a unique piece of Panthers history with Api Koroisau's signed match-worn boots.
The boots were hand painted by Panthers Indigenous Welfare Officer Glen Liddard, for club's Indigenous Round clash against Canterbury-Bankstown Bulldogs.
Proceeds from the auction will be donated to Panthers Indigenous community program 'Sticks to Stadium' and the Panthers on the Prowl Community Development Foundation.
The match-worn boots will be accompanied by a signed Certificate of Authenticity.
Please login to bid.
If you do not have an account register here.
Bid History
| | | |
| --- | --- | --- |
| Date/Time | Amount | Bidder Name/User |
| 2 June 2021 10:56 | $870.00 | Dale |
| 2 June 2021 10:56 | $860.00 | SD |
| 2 June 2021 10:56 | $860.00 | Dale |
| 1 June 2021 16:21 | $850.00 | SD |
| 1 June 2021 16:21 | $820.00 | Dale |
| 1 June 2021 16:21 | $810.00 | SD |
| 1 June 2021 16:21 | $800.00 | Dale |
| 1 June 2021 16:21 | $790.00 | SD |
| 1 June 2021 12:22 | $780.00 | Dale |
| 1 June 2021 12:22 | $770.00 | SD |
| 1 June 2021 12:22 | $770.00 | Dale |
| 1 June 2021 12:19 | $760.00 | SD |
| 1 June 2021 12:19 | $750.00 | Dale |
| 1 June 2021 12:19 | $750.00 | SD |
| 1 June 2021 12:19 | $740.00 | Dale |
| 1 June 2021 12:19 | $730.00 | SD |
| 31 May 2021 20:53 | $720.00 | Dale |
| 31 May 2021 20:53 | $710.00 | MandyB |
| 31 May 2021 20:53 | $700.00 | Dale |
| 31 May 2021 20:49 | $660.00 | MandyB |
| 31 May 2021 20:49 | $650.00 | Dale |
| 31 May 2021 20:49 | $650.00 | MandyB |
| 31 May 2021 20:46 | $640.00 | Dale |
| 31 May 2021 20:45 | $610.00 | MandyB |
| 31 May 2021 20:45 | $600.00 | Dale |
| 31 May 2021 20:45 | $530.00 | MandyB |
| 31 May 2021 20:45 | $520.00 | Dale |
| 31 May 2021 19:38 | $510.00 | MandyB |
| 31 May 2021 19:37 | $500.00 | Chopper |
| 31 May 2021 19:37 | $500.00 | MandyB |
| 31 May 2021 19:37 | $490.00 | Chopper |
| 31 May 2021 19:37 | $480.00 | MandyB |
| 31 May 2021 19:37 | $470.00 | Chopper |
| 31 May 2021 19:37 | $460.00 | MandyB |
| 31 May 2021 19:37 | $450.00 | Chopper |
| 31 May 2021 19:37 | $440.00 | MandyB |
| 31 May 2021 19:37 | $430.00 | Chopper |
| 31 May 2021 19:37 | $420.00 | MandyB |
| 31 May 2021 19:37 | $410.00 | Chopper |
| 31 May 2021 19:37 | $400.00 | MandyB |
| 31 May 2021 19:37 | $390.00 | Chopper |
| 31 May 2021 19:37 | $380.00 | MandyB |
| 31 May 2021 19:37 | $370.00 | Chopper |
| 31 May 2021 19:37 | $360.00 | MandyB |
| 31 May 2021 19:37 | $350.00 | Chopper |
| 31 May 2021 19:37 | $340.00 | MandyB |
| 31 May 2021 19:37 | $330.00 | Chopper |
| 31 May 2021 19:37 | $320.00 | MandyB |
| 31 May 2021 16:53 | $310.00 | Chopper |
| 31 May 2021 16:38 | $210.00 | Elli |
| 31 May 2021 16:38 | $170.00 | Stylus Blinds |
| 31 May 2021 16:38 | $160.00 | Elli |
| 31 May 2021 15:03 | $150.00 | Stylus Blinds |